Emergency Cutting Gear For ThrustSSC
ThrustSSC are well prepared for dealing with emergencies. Safety is the keyword in the approach to the LSR attempt and this is evident in the safety systems built in the SSC. The principal emergency support systems are based on the Firechase Jaguar and with the turn round teams and their equipment. In the event of an accident the Fire & Rescue crew in Firechase, Mike Hearn and Brian Palmer, will need to be capable of extracting the driver. Accidents can happen to other vehicles as well, not just to the SSC!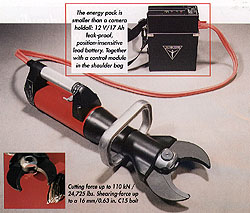 The problem was interesting. We have to be carry equipment that will allow them to cut through the immensely strong SSC structure as well as perhaps the structure of other equipment or vehicles. Such equipment must be portable and light yet exert the kind of forces that are generally backed up by separate hydraulic pumps driven by generators of engines and linked by lengths of hydraulic hoses. The Firechase can't carry all of this volume and weight, so how was it to be done?
Weber of Germany have exactly the right equipment. Weber recently acquired Junkers System gmbh, of Munich, who had developed a really impressive set of equipment for exactly this purpose. This finely engineered equipment permits the Firechase crew to retrieve the kit from the trunk of the Jaguar Firechase and be ready for action with it in about one minute. There are two tools. One is the Beaver electro hydraulic cutter that will cut through 16mm of steel and shear a 0.63" steel bolt. This cutter made light work of the door posts of a range of cars that we tested it on at Gatwicks Fire & Rescue service where station Officer John Trew took the Thrust Firechase crew through their paces.
The other piece of equipment is the Gorilla Electro-Hydraulic spreader. This spreader will pull anything apart! It exerts a force of 6,743lb and we found it easy to snap the steel hinges of car doors with it - a remarkable piece of equipment that can be used with chains and shackles for a wide variety of work. We are very confident about the rescue capacity as a result of the Weber sponsorship.
It is easy to see a huge range of applications for this equipment given that the operator is not handicapped by hoses and limited by the range of the hoses. Aircraft accidents, road rescues, earthquake emergencies and a lot of industrial applications become much easier.
---
Sponsored by
This site best viewed with Microsoft Internet Explorer 3