Taxan Ergovision 2150 TCO95
Development of this Web Site consumes an enormous amount of computer power - when operating in the deserts no less than two mini-towers and a laptop are used. While the laptop means that reports can be written away from the Pit Station - for example when waiting to photograph runs of the car - the twin mini-towers mean that two monitors are required. One acts as the site development server while the other is used for graphic and page design. The requirements in the tight confines of the Pit Station are conflicting:
To maximise use of limited desk space
To maximise available monitor 'real estate' for site design work
The Taxan CrystalVision 650 flat screen monitor helps enormously - with a screen equivalent to a 17" monitor in a minimal 'footprint' it is ideal for running the development server. While the design work could also be done on a similar monitor, a screen resolution of at least 1280x1024 and possibly 1600x1200 makes the job much easier and boost productivity immensely.
ThrustSSC Webmaster Jeremy Davey discussed his limited desk space problems with Taxan's Russell Cole at the first ThrustSSC Press Day - a discussion that led to Taxan loaning the ThrustSSC project the incredible CrystalVision. At the second Press Day before Jordan2 they were again discussing monitors and the Web Site development needs. The need for a larger monitor that took up minimal desk space was raised - and Russell identified the ideal model in Taxan's range and arranged a loan.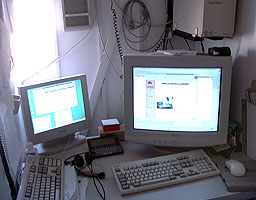 The Taxan Ergovision 2150 in the Pit Station Trailer with the CrystalVision 650
With a footprint little bigger than a conventional 17" monitor, the Taxan Ergovision 2150 TCO95 is ideal for the job. Its use of desk space is minimised by the high deflection angle of the tube which significantly reduces the depth of the monitor, while the high specification ensures that the 1280x1024 and 1600x1200 resolutions needed to develop this Web Site are available. The exceptional sharpness of the picture and high refresh rates minimise the monitor's impact on the operator, while the automatic power-saving capabilities are extremely useful in the diesel-generator powered Pit Station.
Conforming to both TCO92 and TCO95 Environmental Labelling Standards, the Ergovision 2150 TCO95 is the largest member of a range that also includes a 15", two 17" and a 20" monitor. TCO92 conformance ensures that concerns about 'radiation emissions' become non-issues, while TCO95 ensures that the monitor is as easy to use as possible, maximising user productivity and comfort.
Once again, Taxan have provided the ThrustSSC project with a fantastic product to meet a stringent requirement!
---
Sponsored by
This site best viewed with Microsoft Internet Explorer 3