Land Rover Discoverys
Andy Green with the first of the ThrustSSC Discoverys
When Richard Noble first put the sponsorship deal together with Rover they asked to pay the sponsorship in a most unusual way - a special edition of three Land-Rover Discovery's with every conceivable extra and painted in the special 50% matt BASF Supersonic Black as used on ThrustSSC. All Richard had to do was to sell them for the best possible price!
The Discoverys were promoted in a double page spread in Autocar Magazine with driver Andy Green surrounded by ThrustSSC parts and looking uncharacteristically mournful. This immediately resulted in bids totalling over £350,000!
Rover have also supplied the team with cars ranging from their 200 series hatchback to an 800 series saloon and a Defender for use in England, but desert use in Jordan has called for vehicles capable of a substantial amount of off-road use - the Jafr Desert is absolutely flat with a firm surface, but the access track is across rough terrain, and has inevitably become rutted and soft with the continual passage of vehicles. More Discoverys were called for!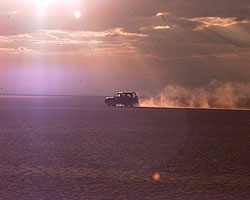 A Discovery on Jafr Desert at sunset
Rover have provided the team with a fleet of five Discovery's in Jordan - giving them robust and effective transport of people and equipment between the Al Jafr base, the desert, the nearest large town of Ma'an and the capital Amman. Fast and fun to drive, callsigns 'Disco 1' to 'Disco 5' have proved consummate masters of their arduous duties, whether they are transporting 'fodding' parties to remote ends of the high-speed track, or collecting supplies from Ma'an.
---
Sponsored by
This site best viewed with Microsoft Internet Explorer 3