HeavyLift-VolgaDnepr Antonov AN-124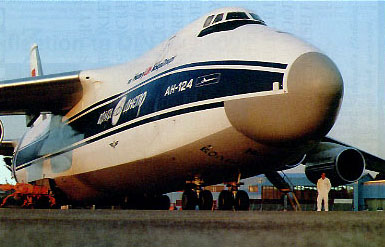 When the Thrust2 team campaigned their jet-car in the United States between 1981 and 1983, first at Bonneville then at Black Rock, they had little option but to send their equipment ahead of them by sea 3 months before following on commercial flights. The only item of equipment to go by air was Thrust2 itself, in the hold of a Boeing 747 cargo aircraft.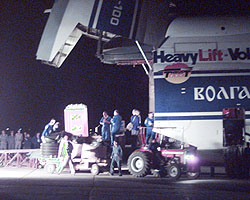 The ThrustSSC Antonov being unloaded in Al Jafr
Unlike the American and Australian opposition, the ThrustSSC team have no option but to undertake their high-speed tests and record attempts overseas. In addition, ThrustSSC is considerably larger than Thrust2 - something very special would be required to transport the car.
Project Director Richard Noble approached HeavyLift, who in conjunction with Russian airline Volga Dnepr operate a fleet of 12 Antonov AN-124 cargo aircraft among others. He asked Graham Pearce for a meeting, secretly hoping he might get a discount - Graham was so fascinated by the idea of helping ThrustSSC he offered to take the car and team overseas for free - and an Antonov could easily take not only the car, but also the team and all the team's equipment in one flight. All Richard had to find was 140,000 litres of fuel (but that's another story).
ThrustSSC is driven off the Antonov in Al Jafr
The enormous capacity of the Antonov has amazed the ThrustSSC team - most of it was loaded at Stansted in their absence while they were sorting out their personal affairs before the long trip to Jordan, but on arrival in the Middle East they found that there seemed to be simply no end of equipment on the aircraft to unload. By the time the jet-car was driven off on its trailer, they had been in action for four hours already.
Particularly valuable to a team with ever-variable timescales has been the ability of HeavyLift to arrange the aircraft at very short notice. The entire team of 25 people and 85 tons of equipment was loaded, moved from Stansted to the desert airbase at Al Jafr, Jordan, and unloaded again in under 12 hours. The saving in cost and time was incalculable. If ThrustSSC have any regrets, it is failing to realise the plane could have taken another 40 tons of equipment…!
---
Sponsored by
This site best viewed with Microsoft Internet Explorer 3